In meiner Freenas Installation wurde ich vor kurzem darauf hingewiesen, dass der smartd Service nicht läuft. Ich dachte nach einem Reboot gibt sich das, war aber natürlich nicht der Fall.
Nachdem ich zunächst auf der Shell im Freenas ein
smartd -d
ausgeführt hatte, startete der smartd Service im Debug Modus und listete mir auf, was er tat. Und da war auch schon die entsprechende Fehlermeldung zu sehen:
Device: /dev/da0, unable to autodetect device type
Unable to register device /dev/da0 (no Directive -d removable). Exiting.
Mittels
camcontrol devlist
war dann schnell klar, dass die SD Karte, auf der mein Freenas System läuft, das Problem verursachte.
Die Problemlösung ist etwas unkonventionell, aber in meinem Fall ist sie ok: die SD Karte braucht keine SMART Überwachung.
Also einfach die Freenas Weboberfläche aufgerufen, und dort unter "Speicher –> zeige Festplatten" die Platte ausgewählt und per "Edit" Button das Häkchen bei "S.M.A.R.T aktivieren" raus nehmen: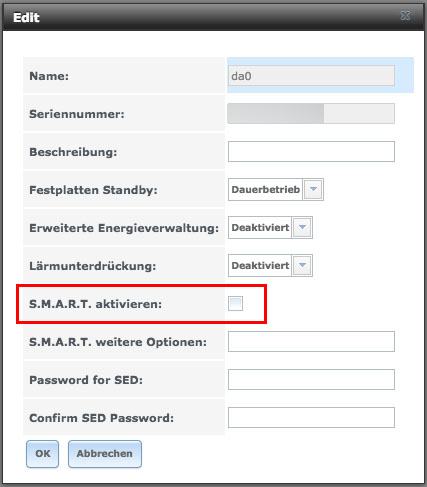 Nach dem Speichern dieser Änderung lief der smartd sofort wieder 🙂